Learn how to make these colorful and creative splatter paint ornaments with this handmade glass ornament tutorial by Julia Fraizer. It's a part of our Monthly Handmade Ornament Series.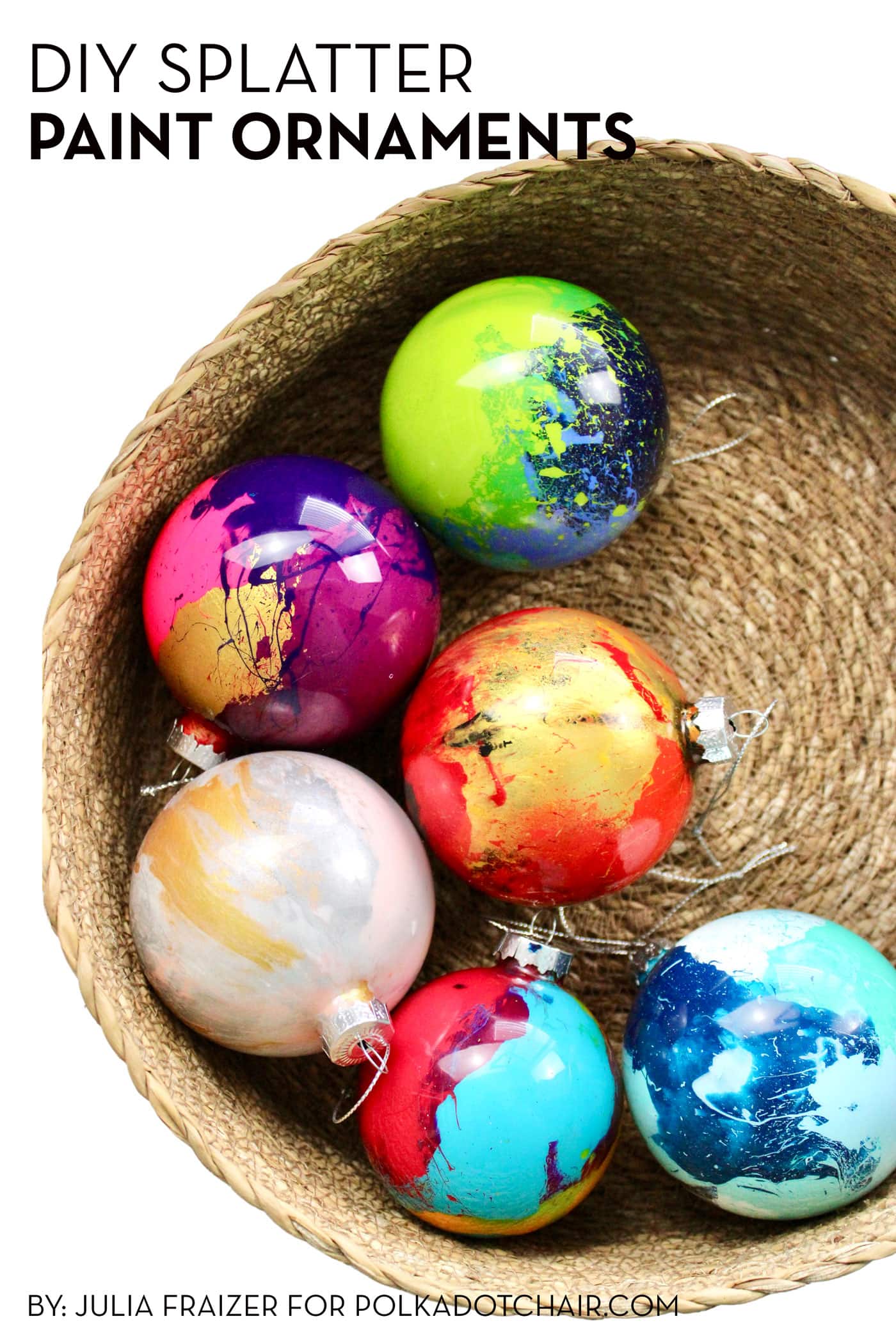 Hello friends, it's Julia from Bayhill Studio, and I'm excited to bring you a fun, family-friendly project today. These Splatter Paint Ornaments are so easy to make; I guarantee once you start, you'll be totally hooked!
Table of Contents
The ornaments require no artistic background or ability and allow you to have fun with paint while creating unique, one-of-a-kind painted home or holiday decor.
All of our Ornament of the Month Tutorials
I created a handful of ornaments playing with different colors and styles — from traditional, to coastal, to super colorful and modern.
Splatter Paint Ornament Supplies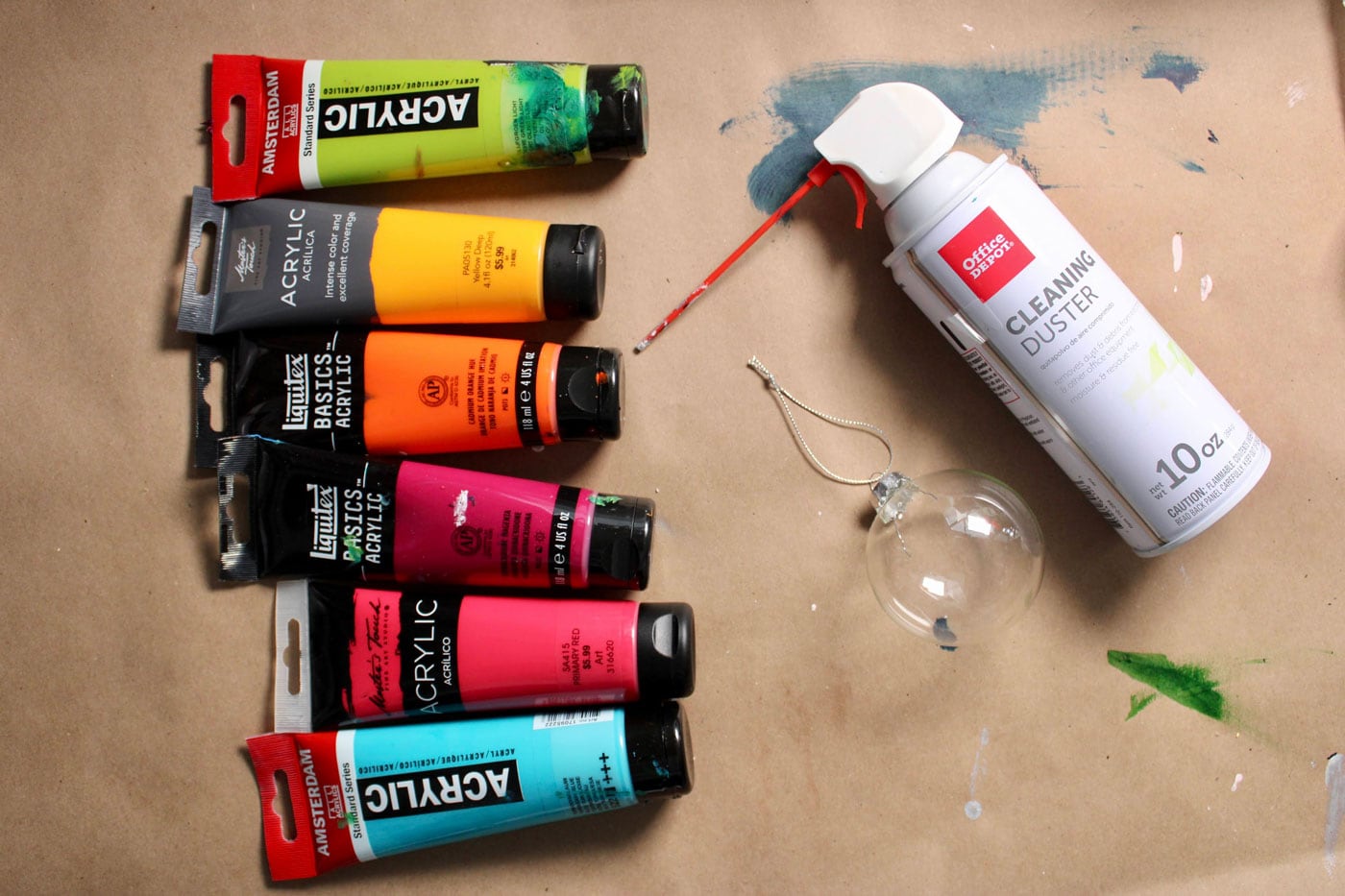 To make these ornaments, you will need:
How to Make Splatter Paint Christmas Ornaments
Begin by removing the silver cap from each ornament. These are easy to remove — pull gently on the wire loop, and it will slide right out. Set the cap aside and save it for the final step.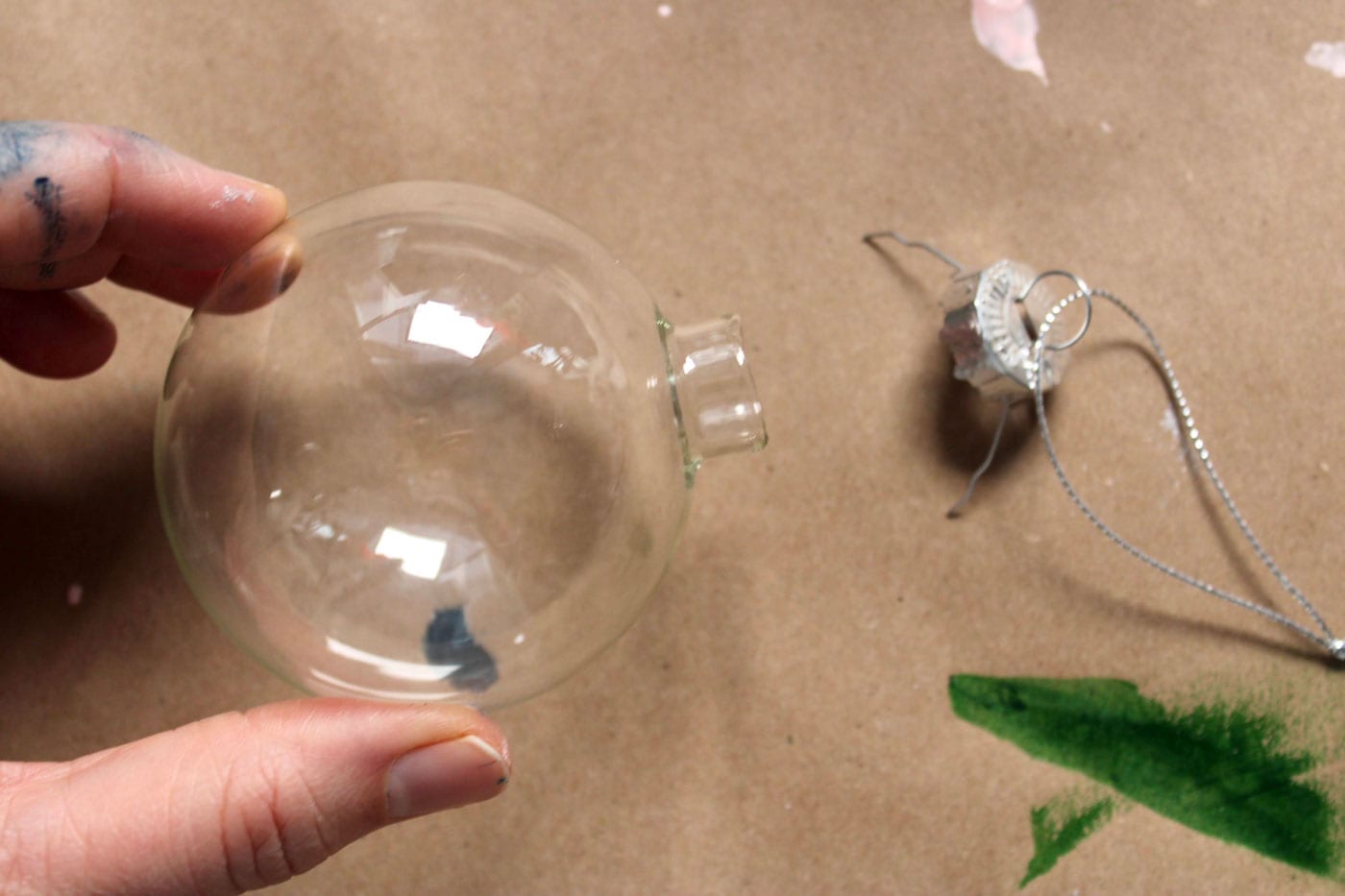 Step One: Paint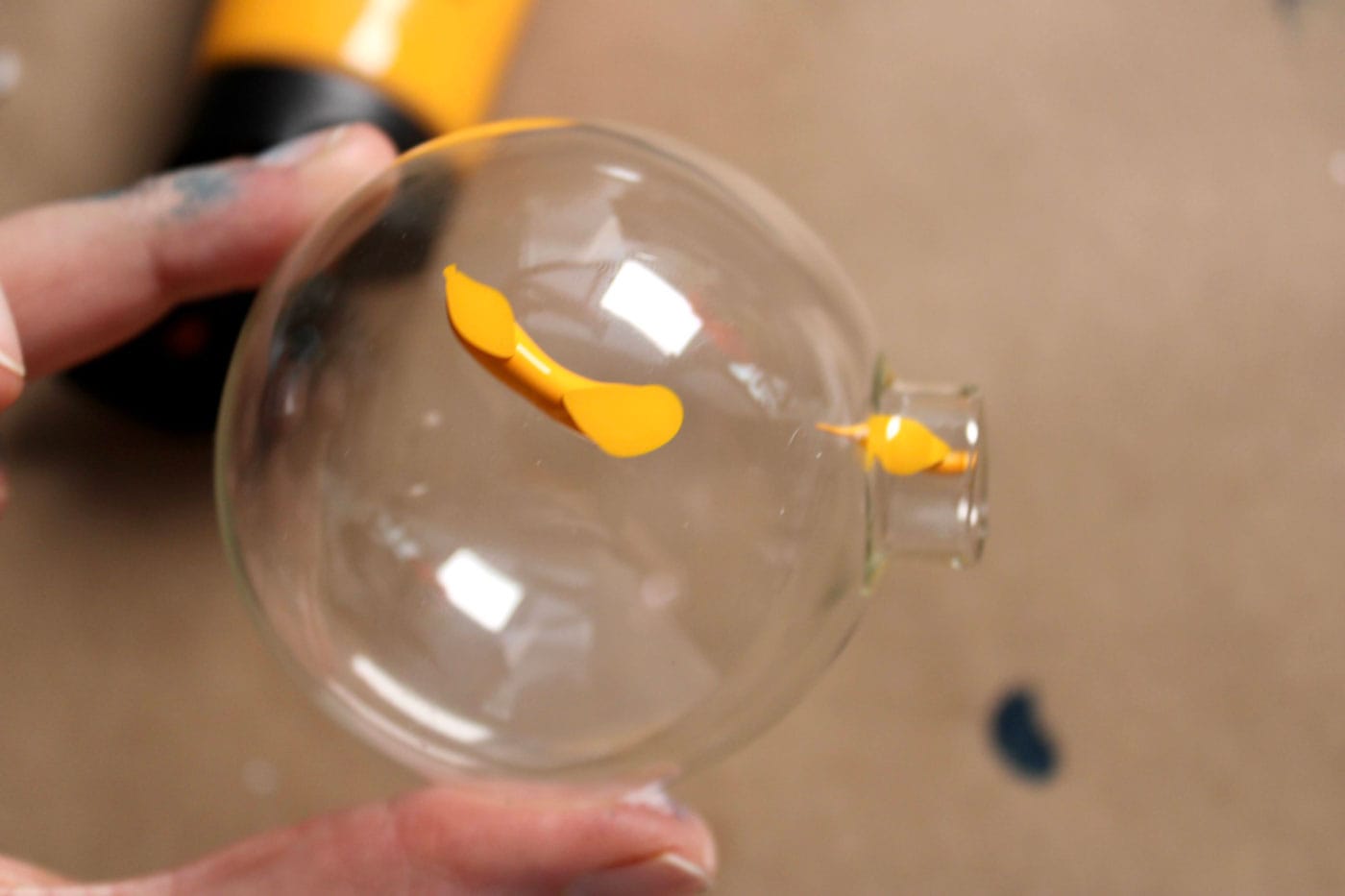 Now let's have some fun! Squeeze a dime size dollop of paint into the ornament. Remember that the first paint you add will make up the outer layer of color. Keep that in mind as you decide where you want that paint to land.
Step Two: Spread the Paint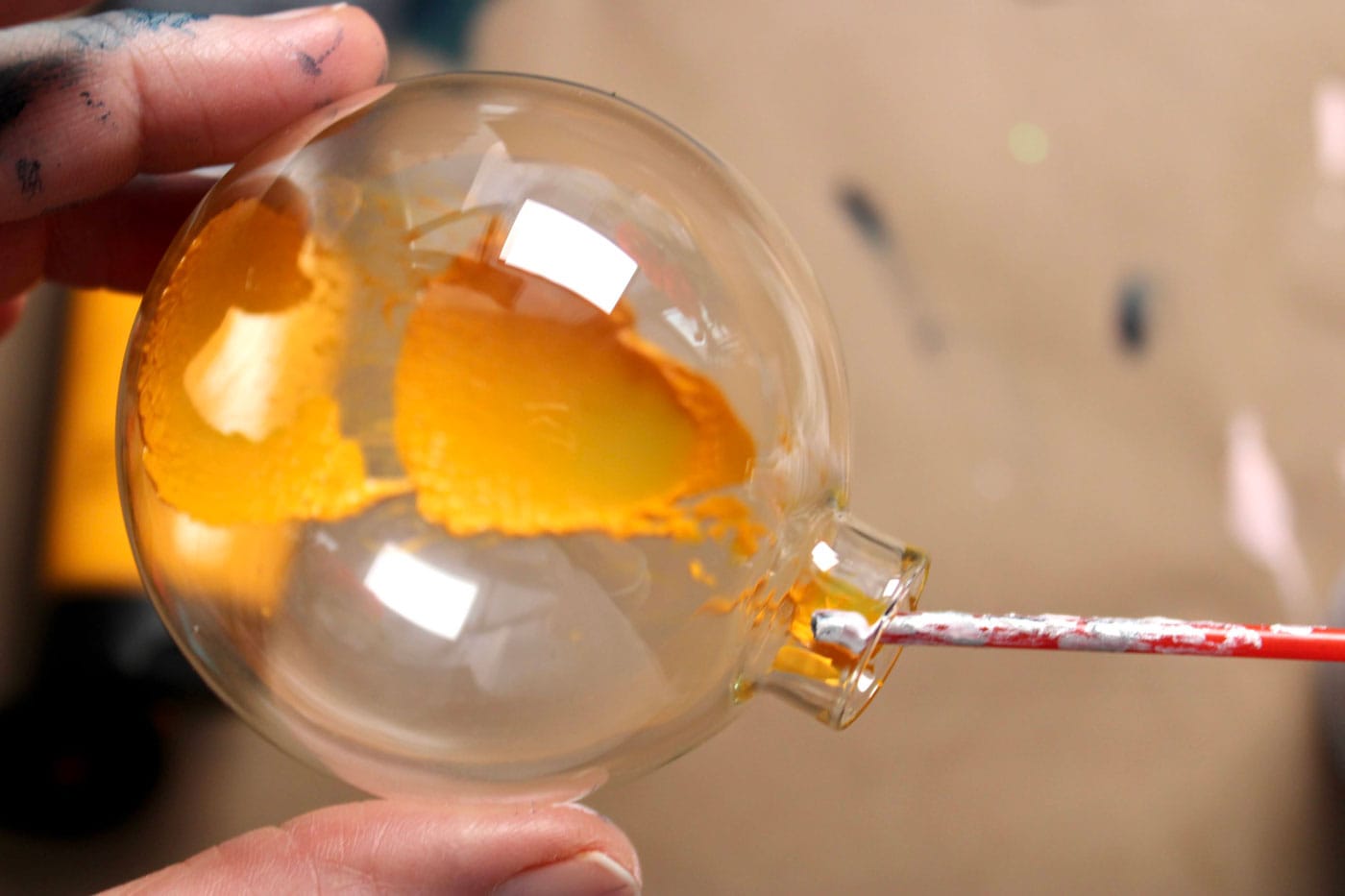 Now take your compressed air and, with the long plastic tube attached, direct the air towards the paint and give it one or two quick bursts of air, so the paint splatters all over the inside of the ornament. Note: if you hold the air down too long, the paint will spread but not splatter.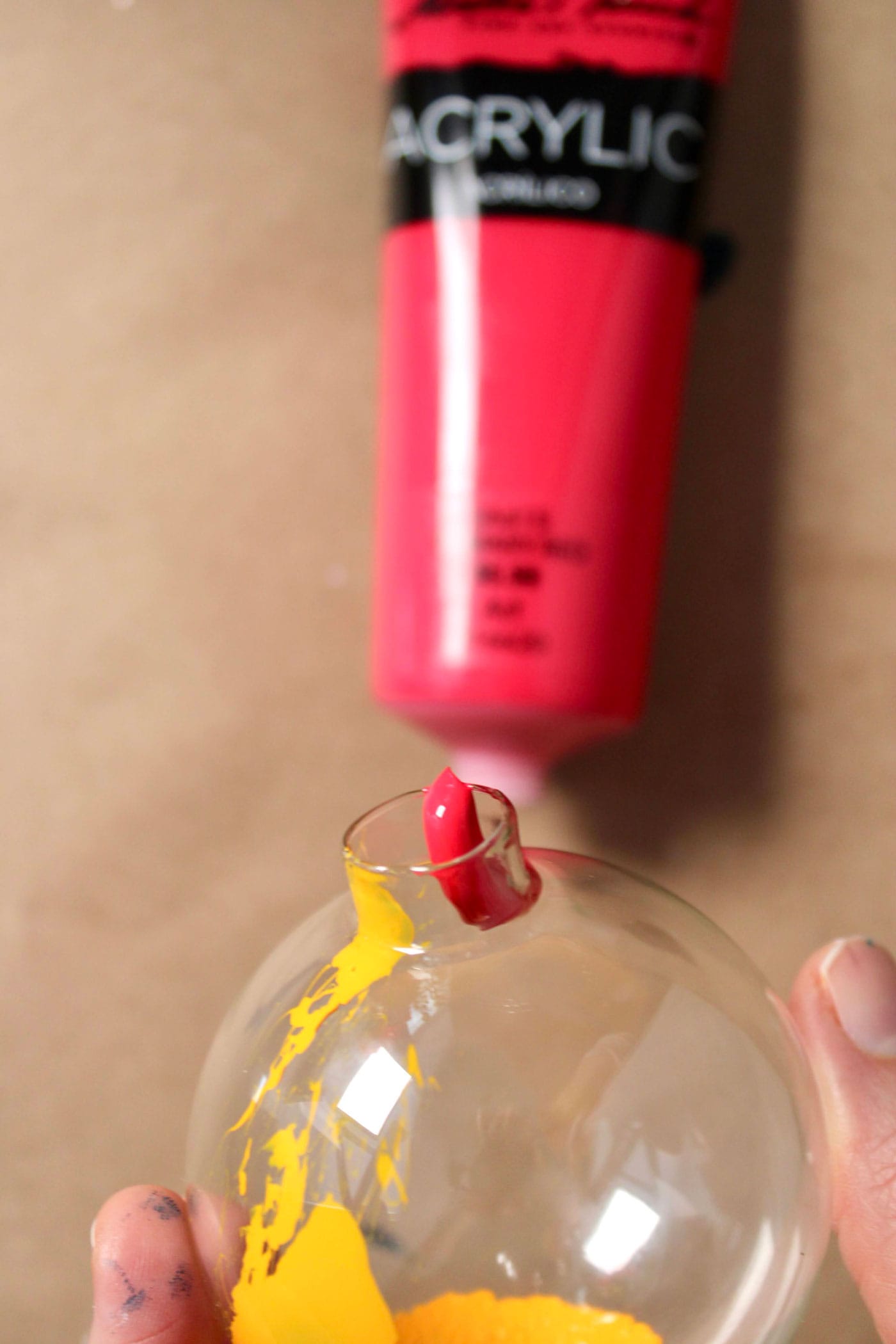 Repeat with the next color. I am using red here. This time, I let a dollop of paint side right inside the neck of the ornament. The reason for this is that I want the red to spread around the upper part of the ornament.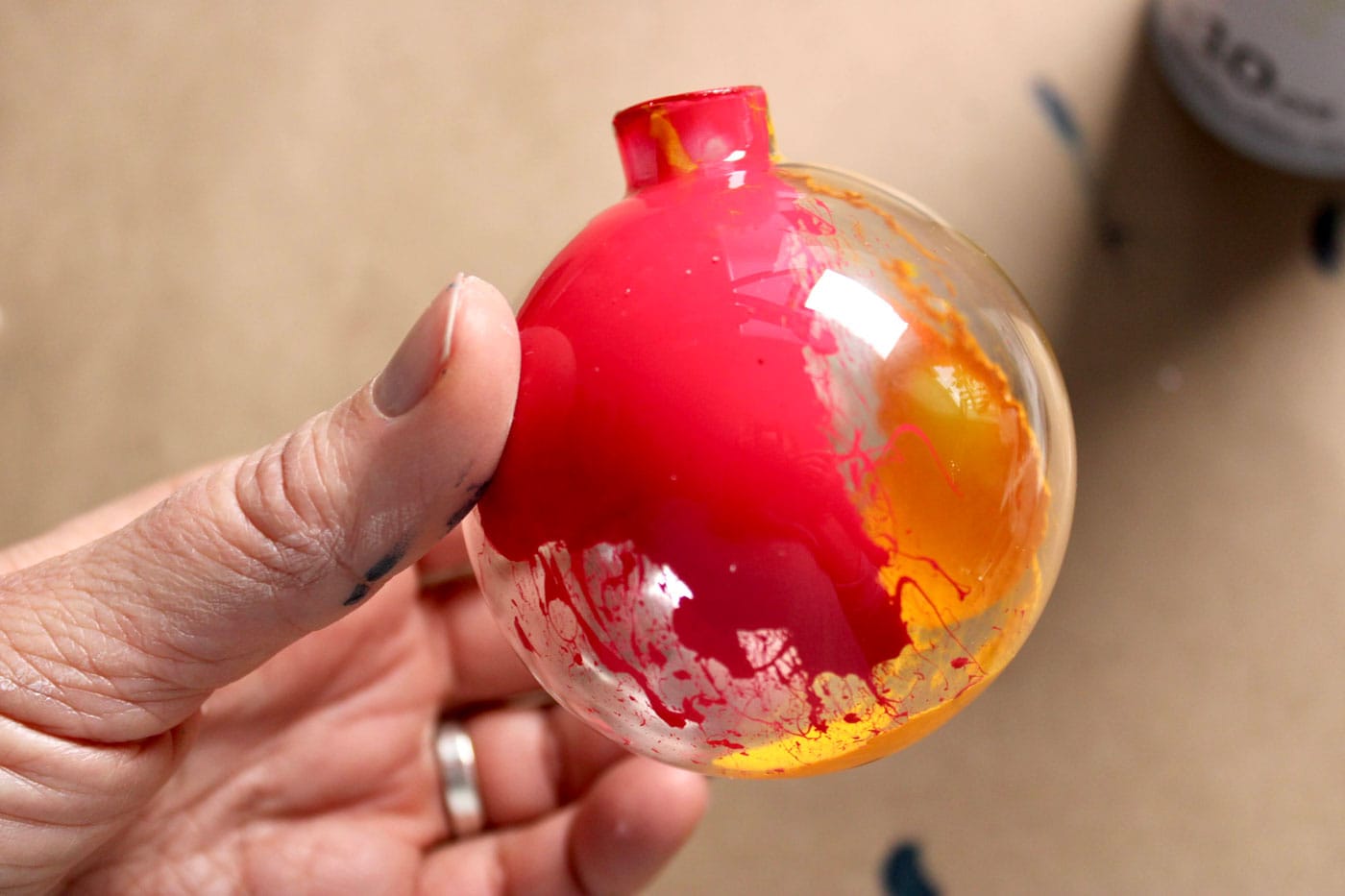 Getting the paint to spread in the upper part of the ornament requires just a little finesse. You'll want to aim the compressed air at the neck of the ornament and then gently move it downward, coaxing the paint into that curve.
I put a dollop of blue paint in the neck of the ornament as well. A little bit dropped into the main part of the ornament, and that's completely fine. Just go with it!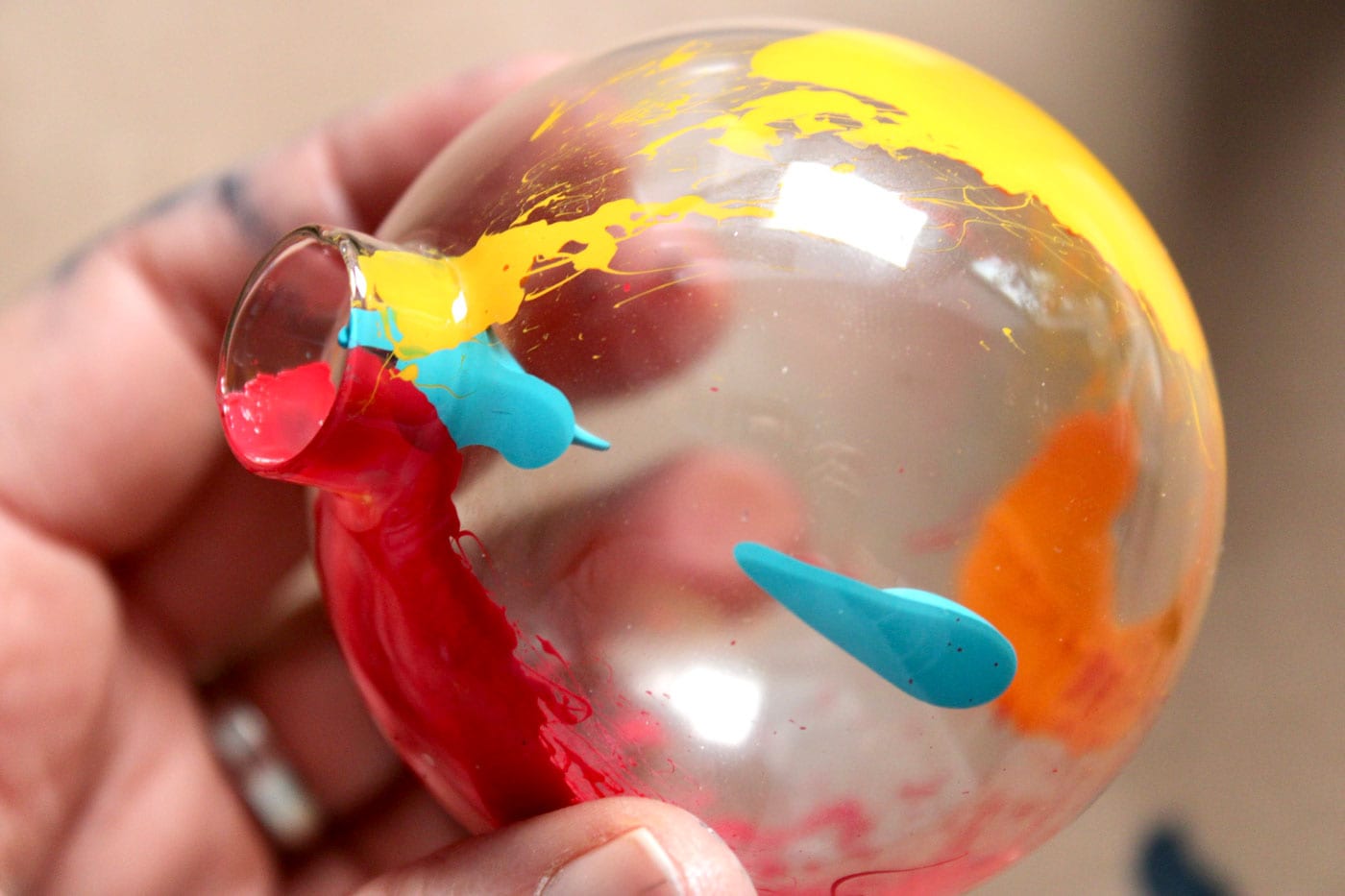 Here you can see how the blue begins to layer a little behind the yellow and red. Each subsequent layer will become more of the background.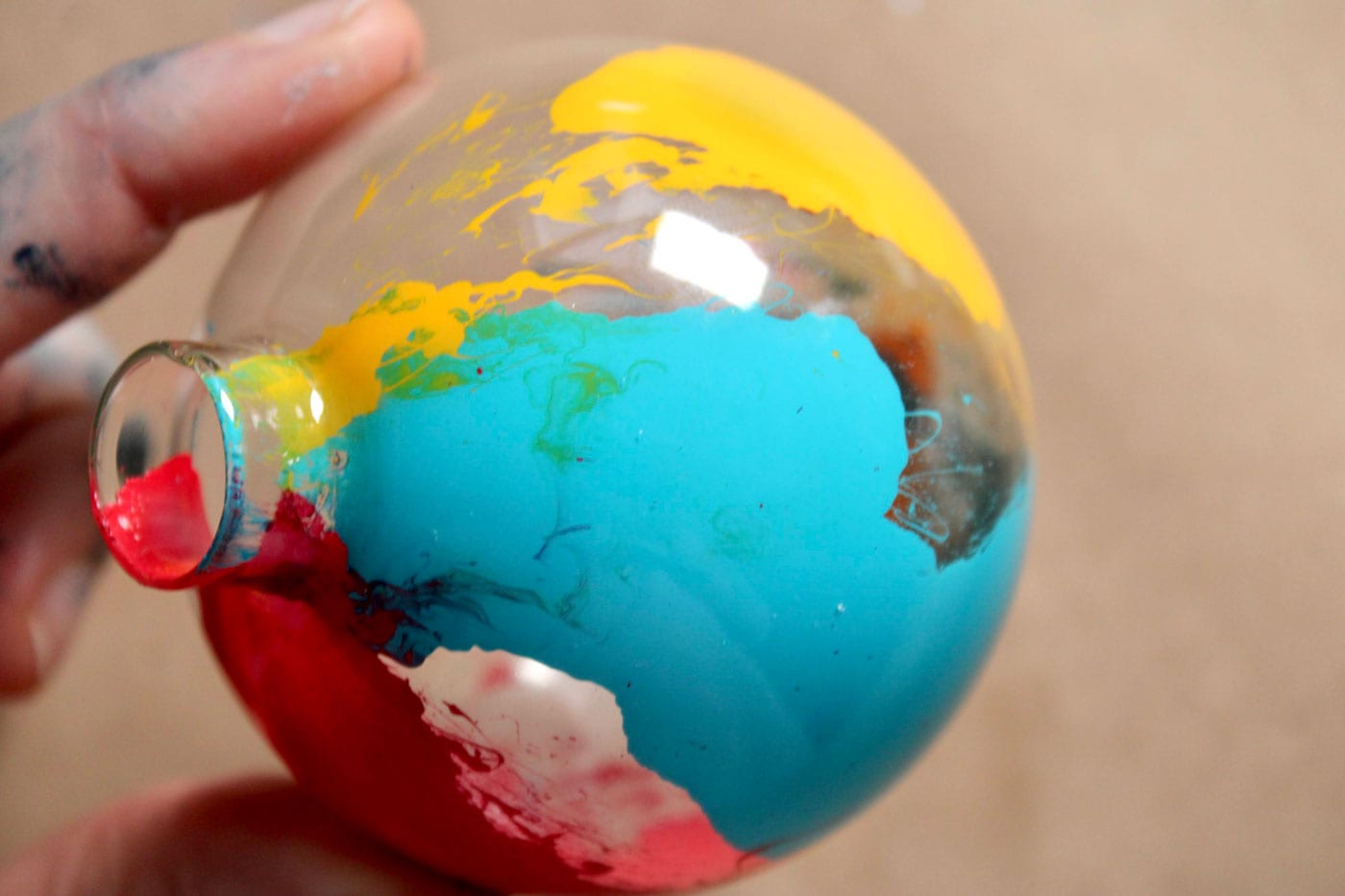 You will find that each paint spreads has a slightly different consistency from the others, which makes them spread a little differently. I added this orange to the neck of the ornament, expecting it to fill in a small side area.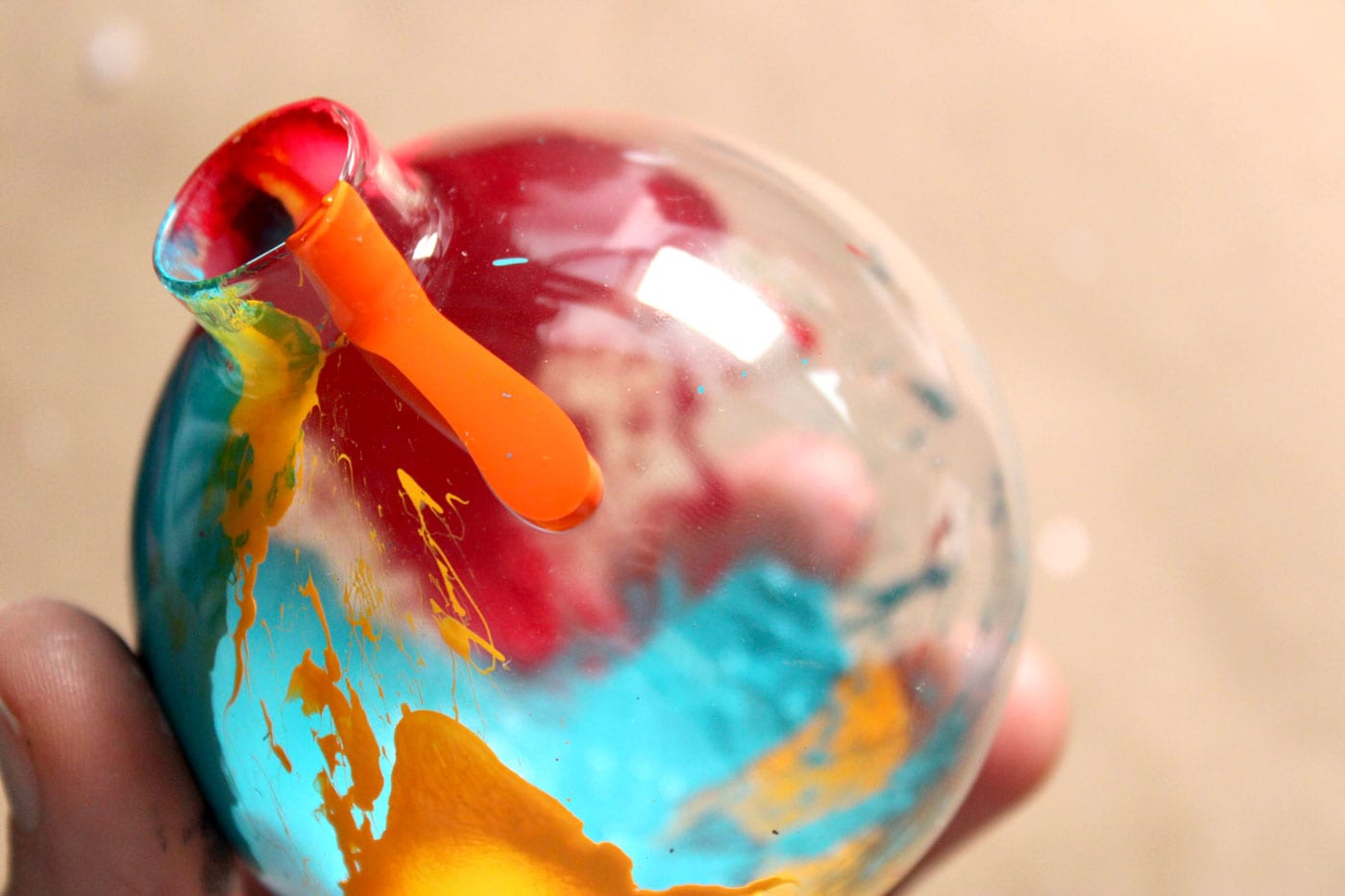 Instead, it spread all the way to the base of the ornament and provided a gorgeous contrast to the blue and yellow paints.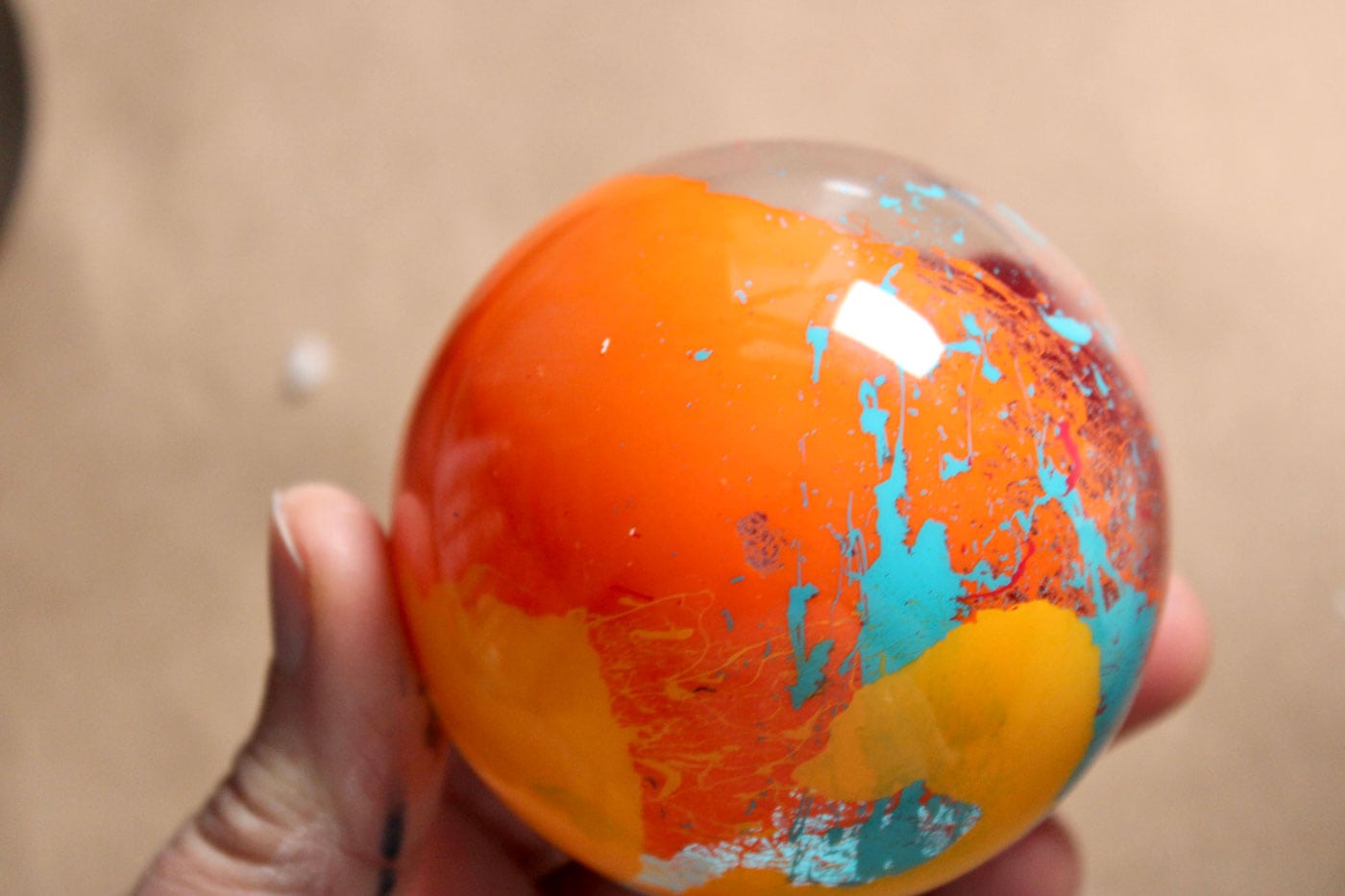 Step Three: Add Additional Colors
Next, I added some lime. It didn't spread far but again added some fabulous splatter effects and color contrast.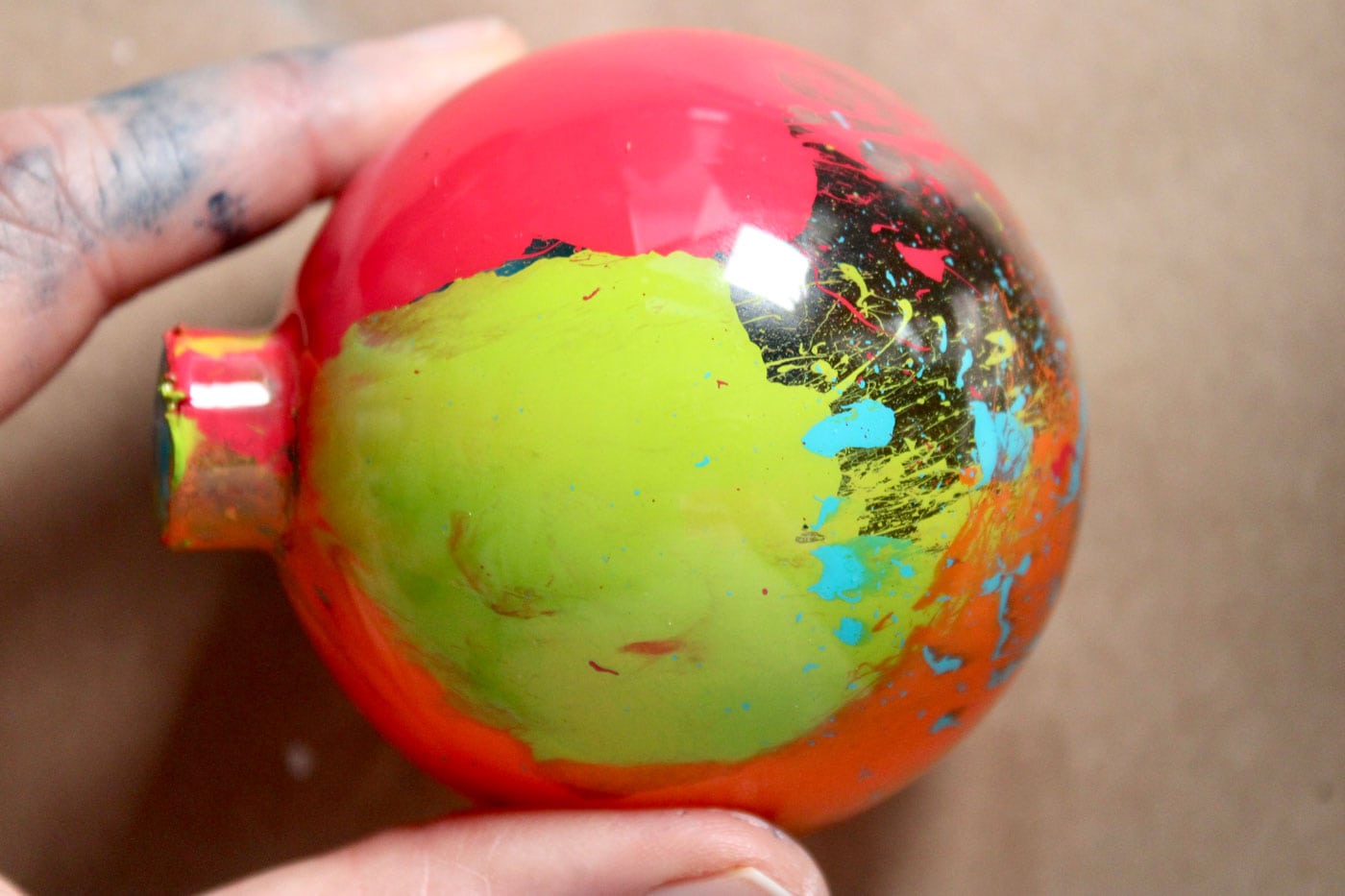 This ornament was all about bright, vibrant colors, so magenta was next. Notice I continue adding paint to the neck of the ornament in order to fill in the empty gaps on the side of the ornament.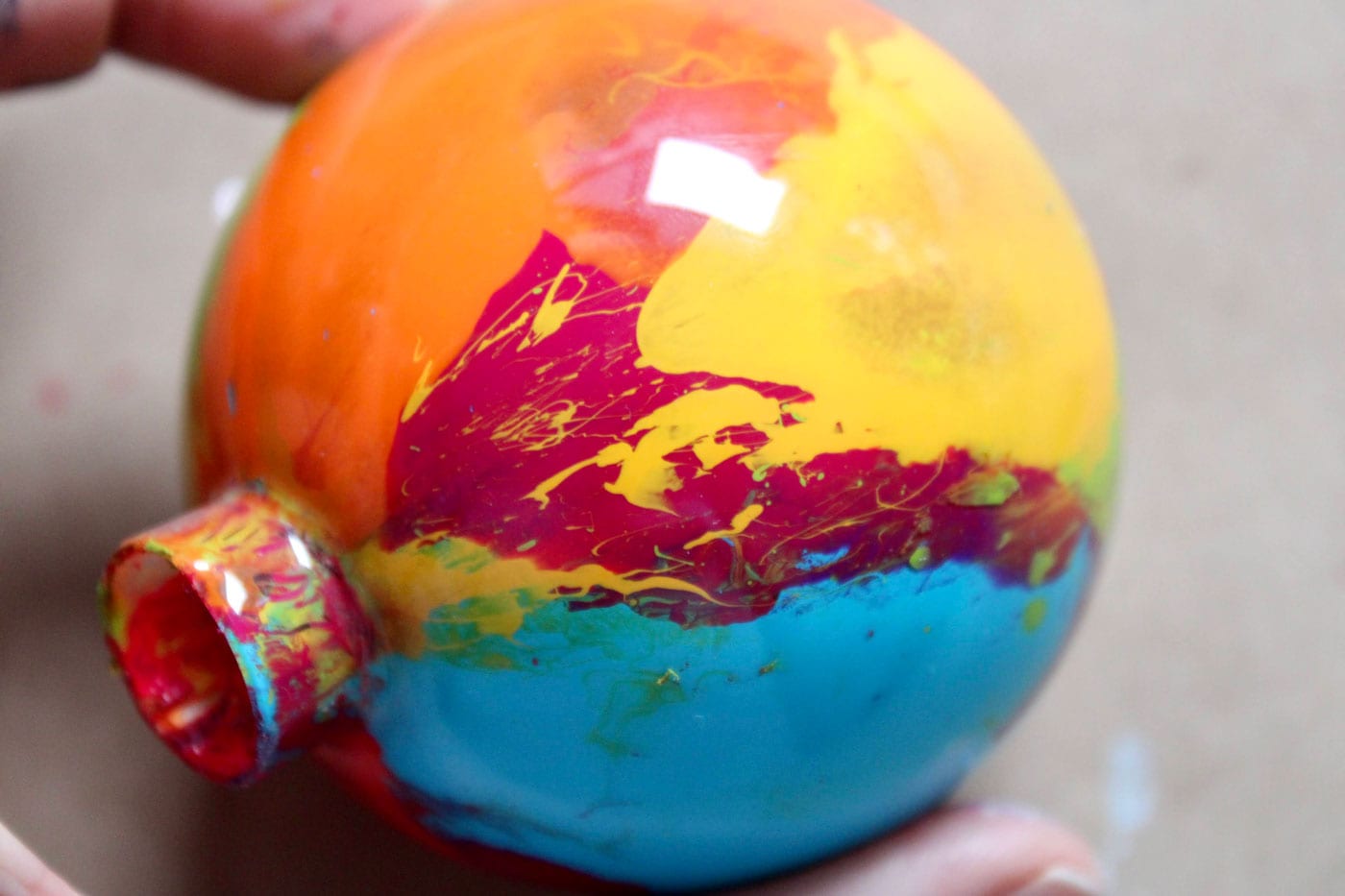 I LOVE how the magenta fills in the background and really lights up those yellow splatters!
Finishing
Once you have finished, you'll want to let the paint dry. It needs a long time to dry because the paint doesn't get much air flowing inside the ornament.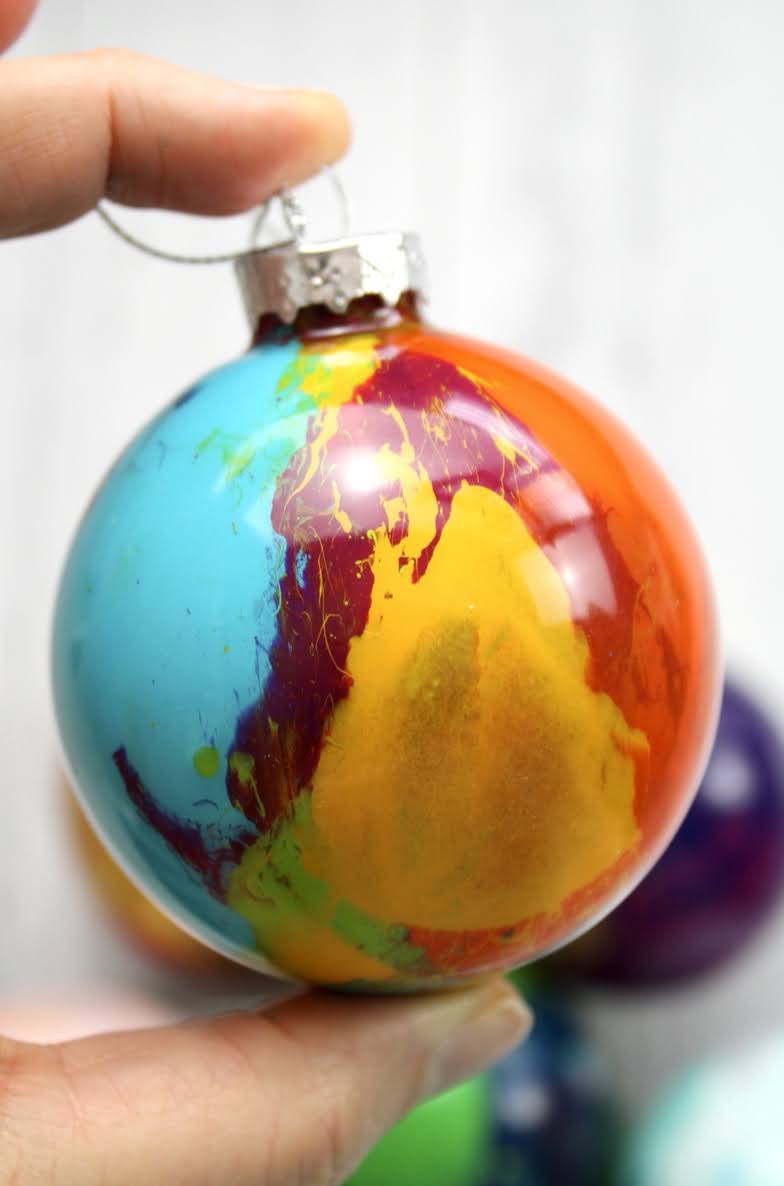 I let mine dry for a week. After the paint is dry, I go back and check to see if any of the paint has settled. The settling can cause some paint to pull downward, leaving exposed glass/plastic.
If this happens, go back over it with a little more paint, and let dry again. After it is dry, replace the metal cap, and your ornament is finished!
More Color Variations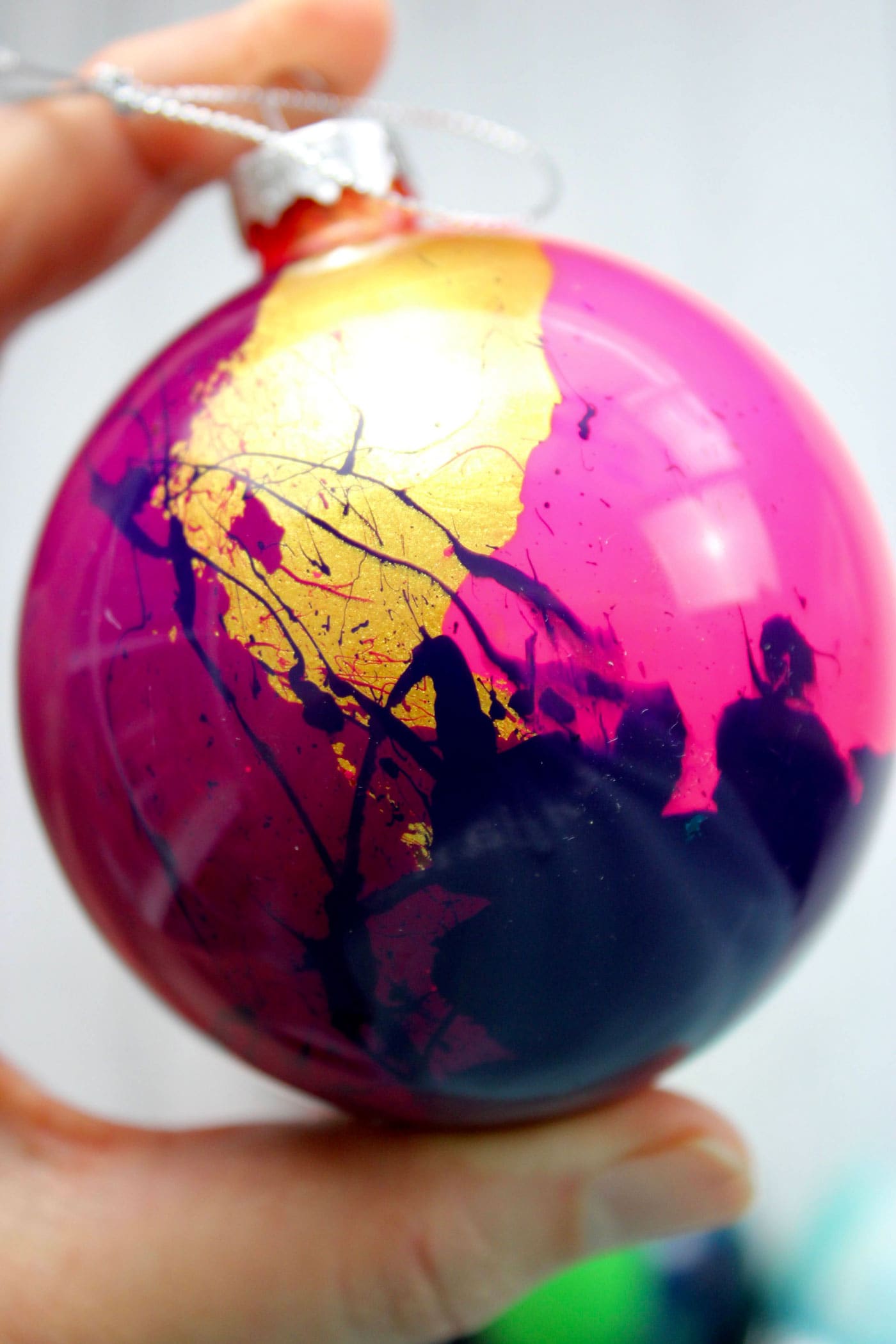 Here is a purple and gold version I made. The gold looks like gold leafing. So pretty! And I love how the deep purple splatter adds so much energy to it.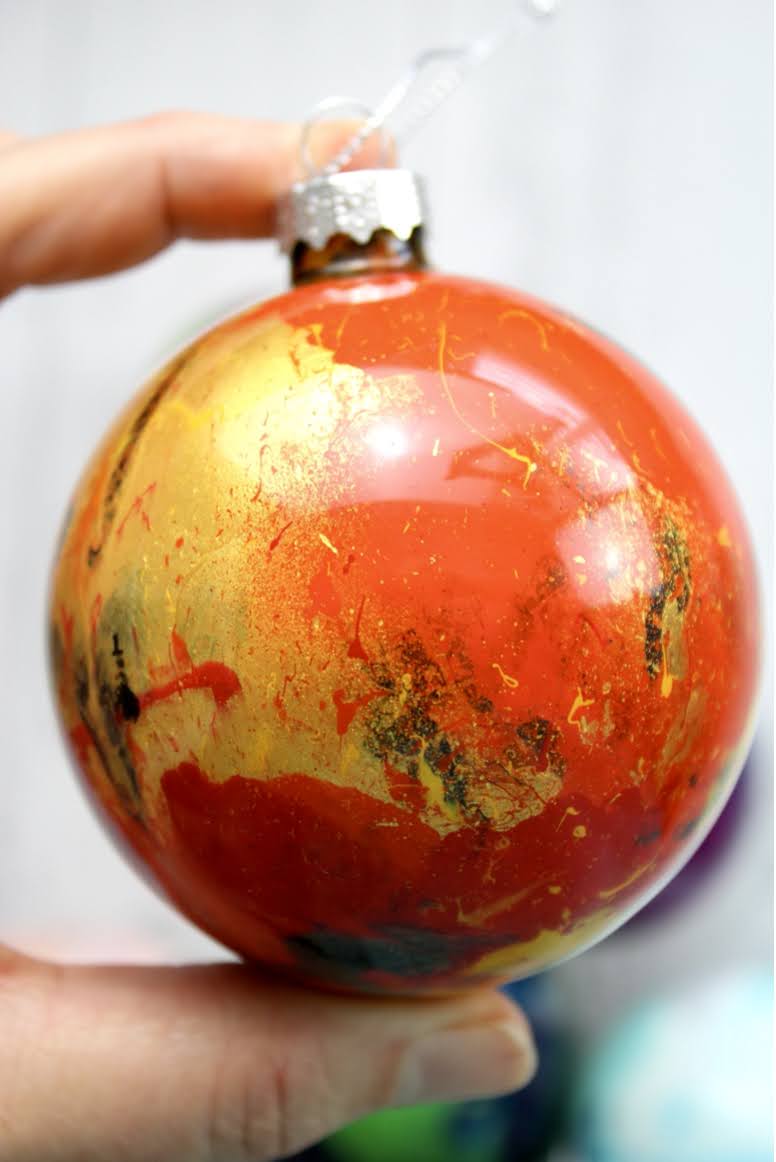 Do you like something a little more traditional and elegant? I used red, persimmon, gold, and black to create this beauty. Again, the gold adds such a fun pop of wow factor, don't you think?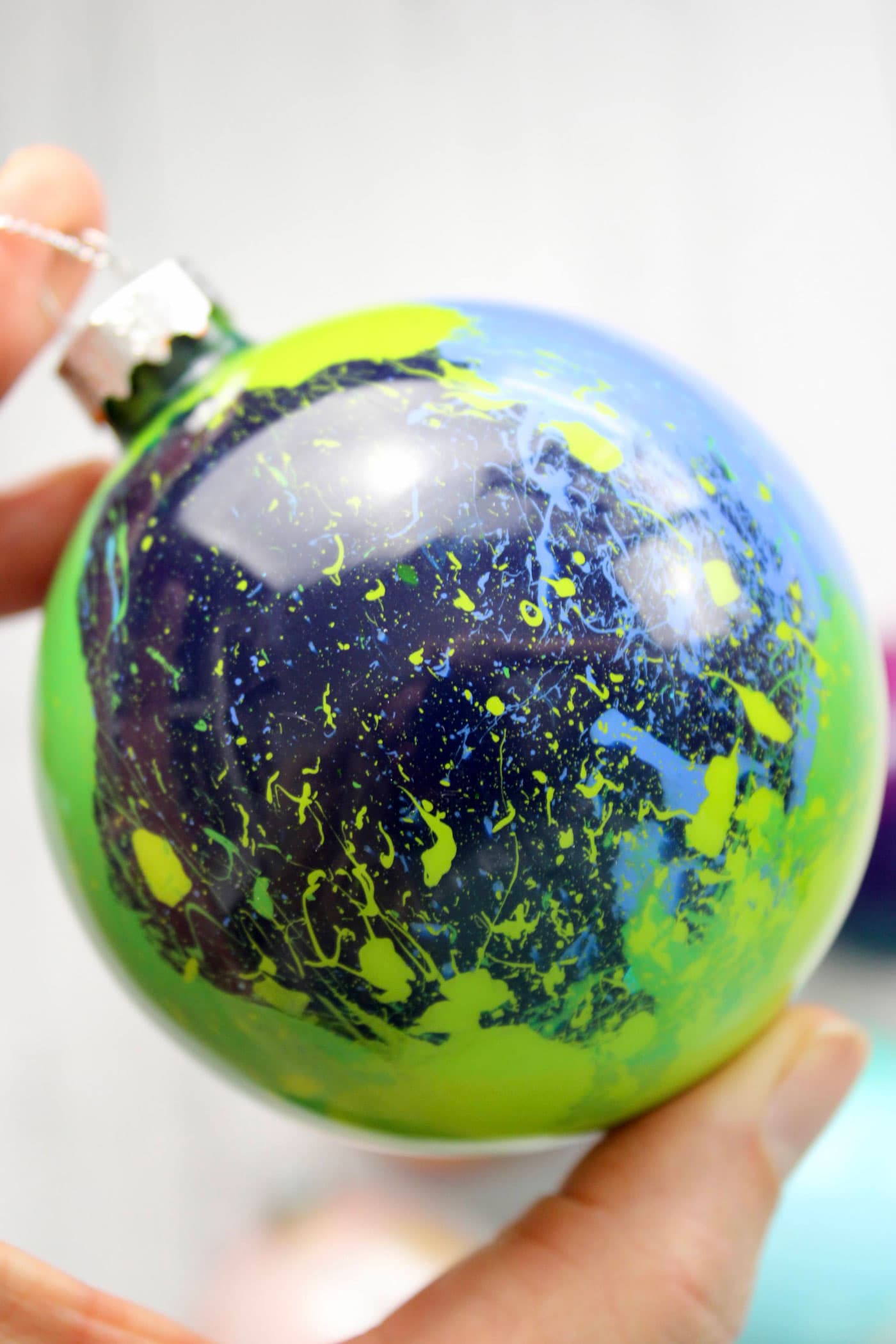 This one is for all of the nature lovers out there. I used various shades of green and blue to create this abstract earth.
I'm a sucker for cool, coastal vibes, and this ornament has it with calming shades of blue and a splash of white.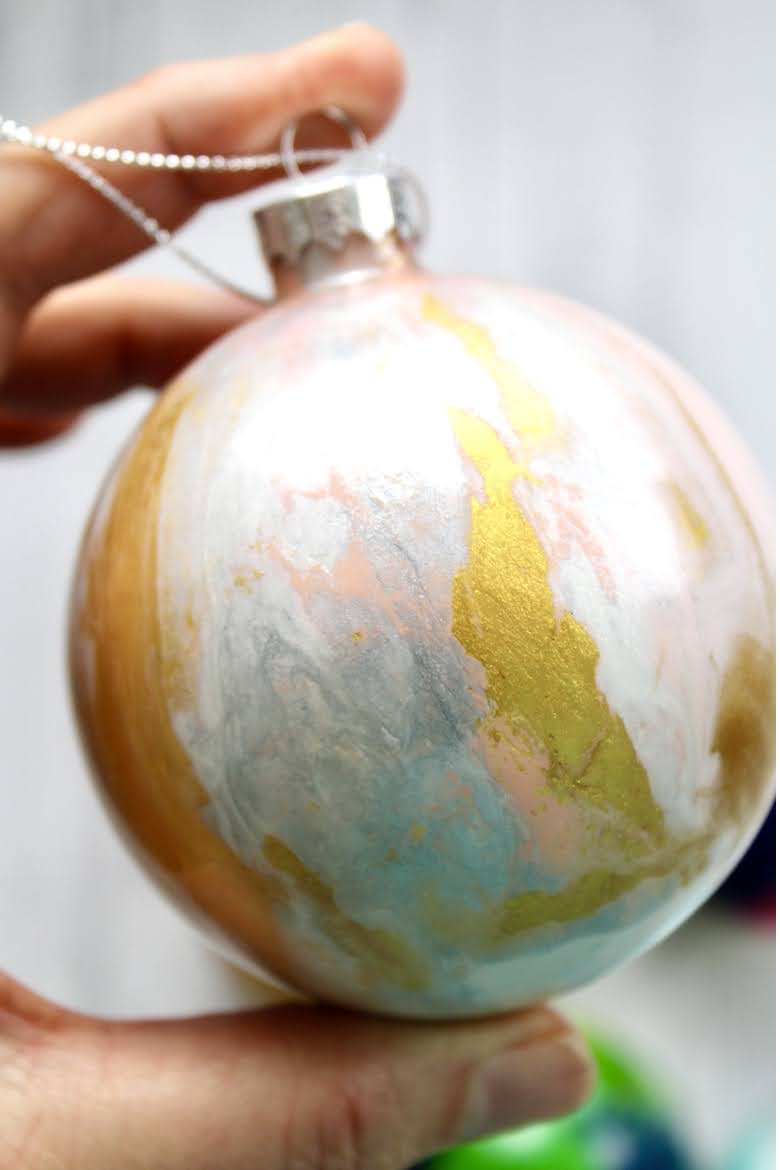 Need something a little more understated and elegant? Pictures don't do this one justice. This lovely ornament is painted with soft shades of pink, coral, silver, and gold. Gorgeous!
I love these glass ornament balls because they aren't just for the holidays. You can take off the string and arrange them in a decorative bowl, and you have yourself some FABulous custom home decor!
Can I Use Plastic Ornaments?
You can make kid-friendly versions by using plastic ornaments instead of glass. These are so easy to make and would be a perfect activity for the whole family to get in on.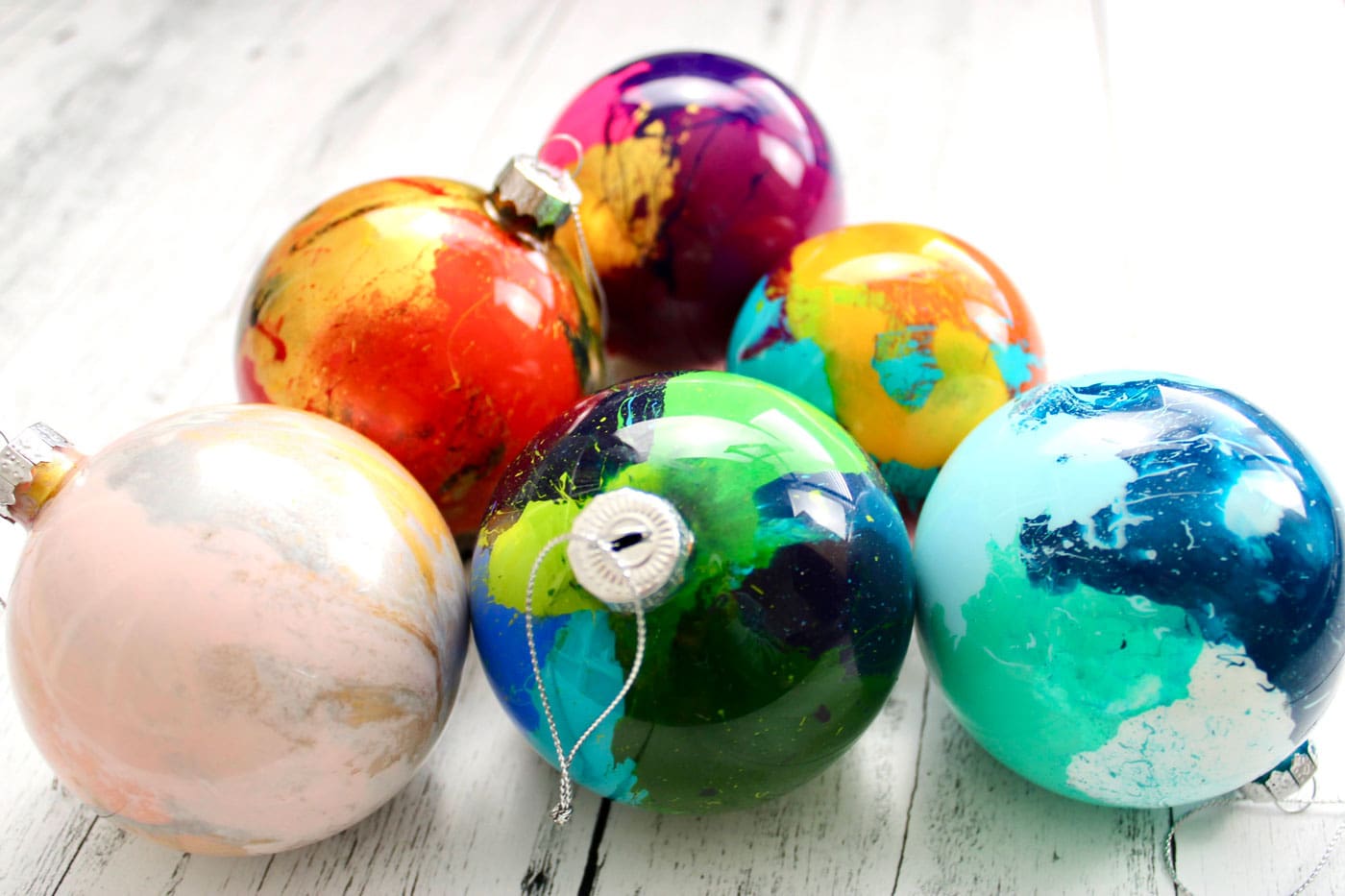 Thank you so much for stopping by! I hope you'll make your own Splatter Paint ornaments and share them with me on Instagram @bayhillstudio. Take a moment to subscribe to my YouTube Channel and follow me on Instagram for more creative content and project inspiration. Have a blessed day!
Video Instructions
If you'd like additional instructions, be sure to check out the video of the entire process on Julia's YouTube channel.
About the Maker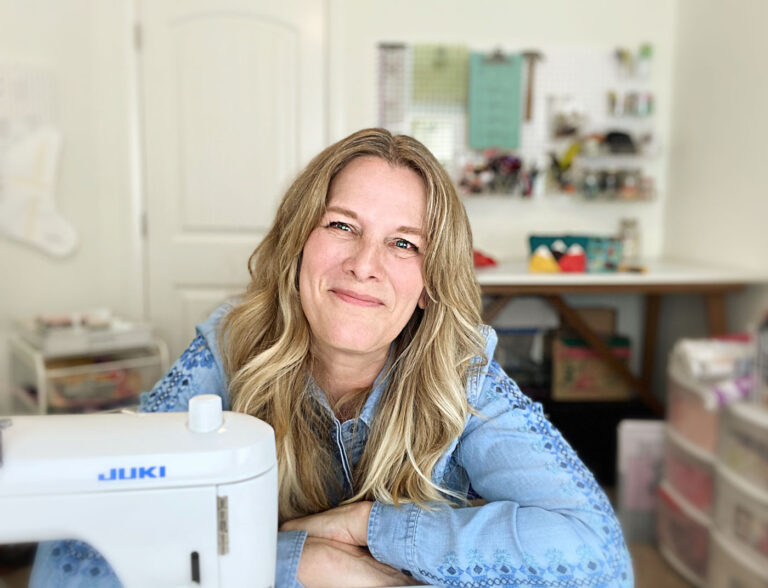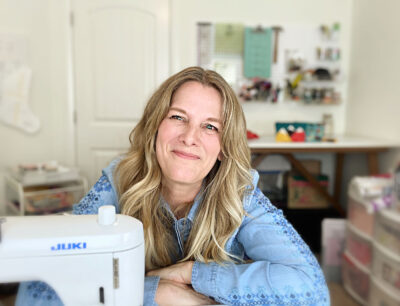 Julia Frazier is the founder of Bayhill Studio. Julia designs quilts and projects geared toward beginner quilters and crafters. You'll usually find her at her sewing machine or hiking in the nearby mountains. Follow Julia on Instagram @bayhillstudio, and subscribe to her YouTube channel for new and exciting projects and tutorials. Be sure to check out her Bayhill Studio website for a growing list of tutorials and patterns.
Also By Julia: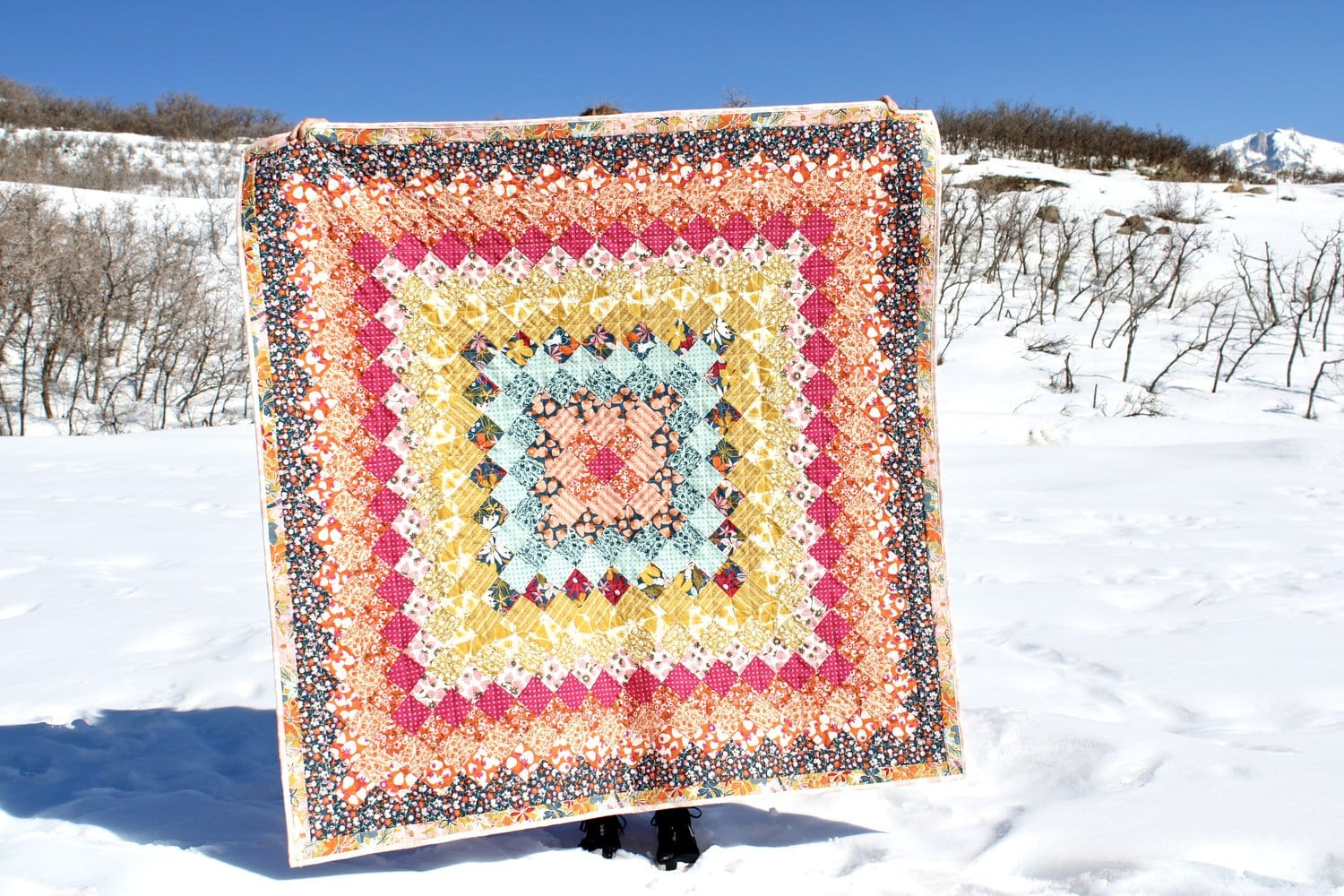 Giant Granny Square Trip Around the World Quilt
Pre-Cut Friendly Lattice Quilt Tutorial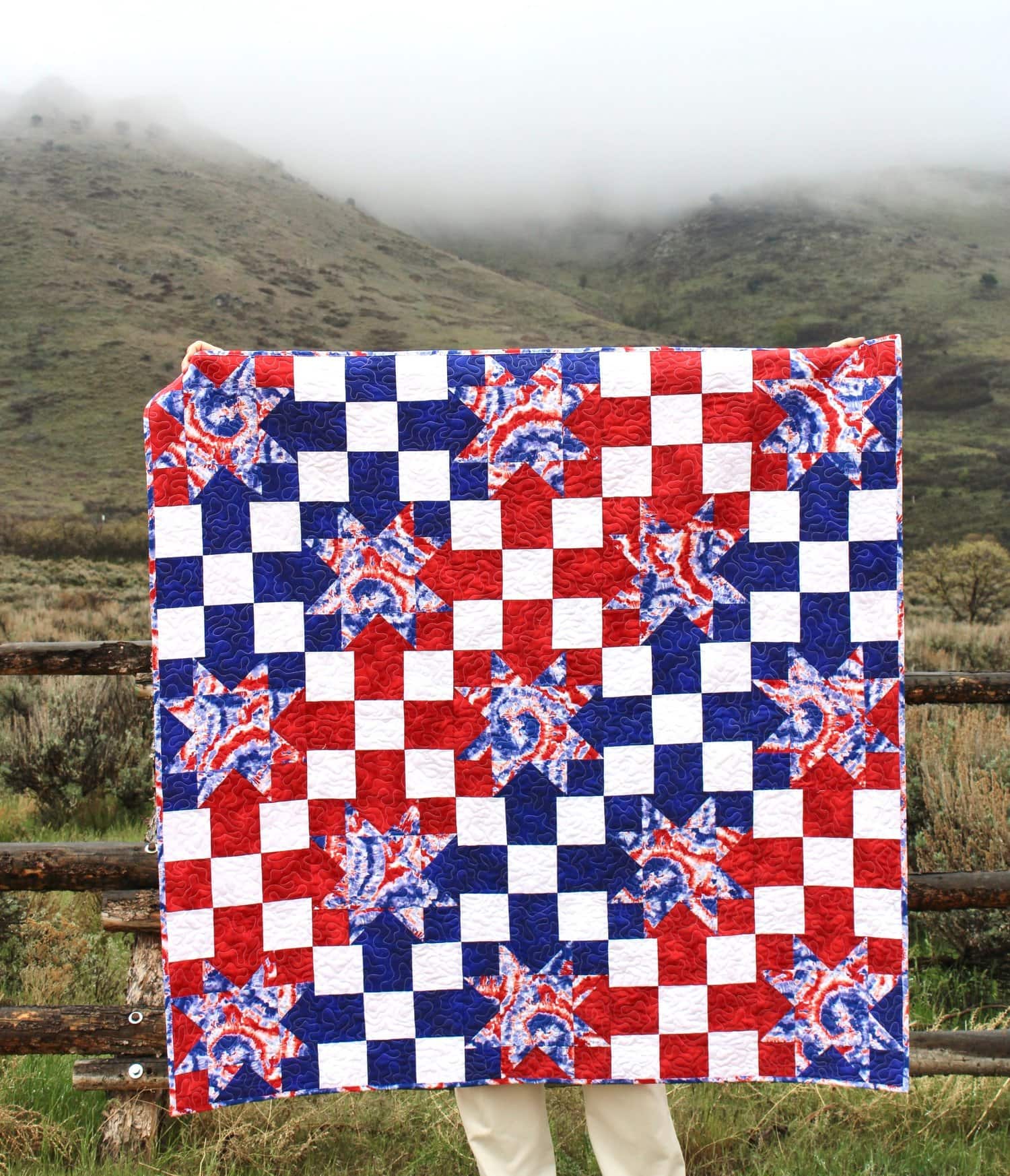 You May Also Like: