Stocking stuffers are the perfect way to add a little surprise and delight to the holiday season. If you consider yourself a Maker I've got a list of more than 30 DIY Stocking Stuffers! If you're not feeling crafty, I've also included a few suggestions for stocking stuffers that you can buy.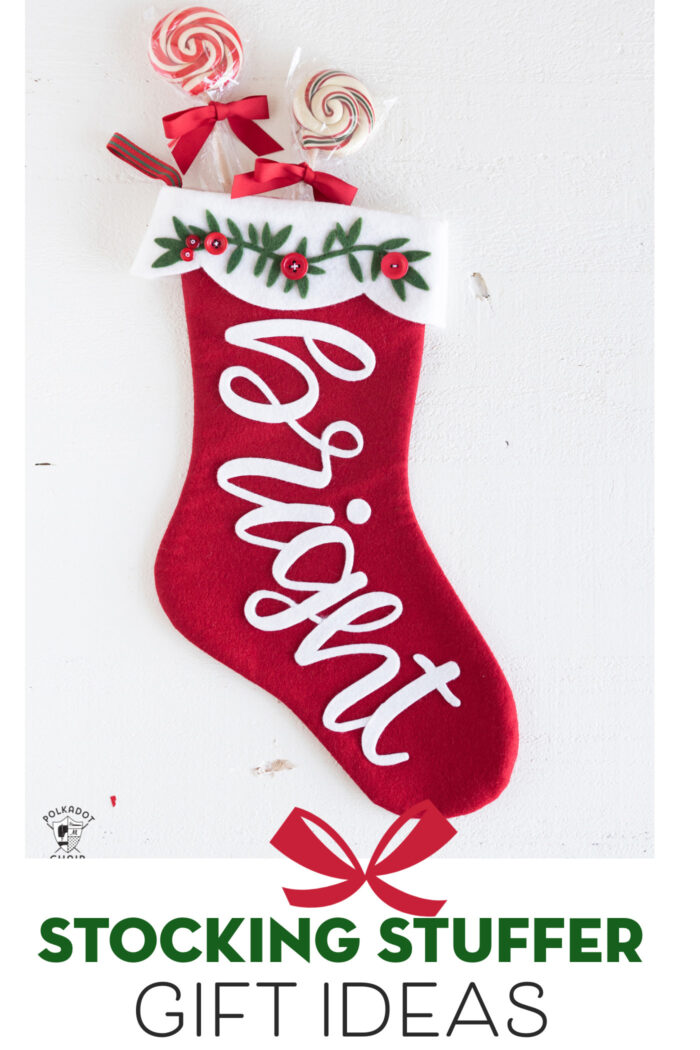 Table of Contents
If you're almost done with your Christmas shopping but still need a few things to put in your kid's or families' Christmas Stockings, I've got a few great suggestions for you today! I've broken down my list into two sections, DIY stocking stuffers and stocking stuffers that you can buy. The items on the buy list are all readily available, you should be able to find them easily at your local stores or online.
What type of things do you put in stockings?
Every family is different when it comes to stocking traditions. If you're looking for low-cost budget-friendly ideas I suggest:
Candy
Lip Balm
Small Soaps
Candy Canes
Pencils or Pens
Hair Clips
Peppermint Bark
Hot Cocoa packets to use on Christmas morning for breakfast.
Many families also have a tradition of putting fruit in a Christmas stocking. Oranges are always popular at Christmas since they represent the gold that St. Nicholas used to leave in kid's stockings.
What Can I Fill Mini Stocking With?
Mini stockings are so fun to make (we've got lots of great tutorials on our site). Since they are small they are best filled with one or two items. I suggest a gift card or candy cane & lip gloss.
What Should I Put in a Dad's Stocking?
This one is hard! My husband and I always make stockings for each other every year. I've tried several things over the years but seem to always fill them with socks, nice chocolate candies (the fancy kind he won't usually buy for himself), and extra charging cords (they always wear out, so new ones are usually welcomed).
What Should I Put in a Mom's Stocking?
As a mom, I'll give you a few ideas. Lip Balm, Hand Warmers, a great-smelling candle, mints, a new phone case, or any small gifts handmade by my kids. Spa-inspired items like bath salts and sugar scrubs are also great options.
DIY Stocking Stuffers: Things to Make
I've gathered a list with a lot of homemade stocking stuffer ideas for you. Some of them are very quick to make, and some take a bit more time but are still worth the extra effort. Most of them are sewing projects, but I did include a few crafts for you as well.
I tried to include on the list items that would appeal to both men & women. Most of them can be easily customized for a boy or a girl based on your fabric choices and the personal preferences of your gift recipient.
Stocking Stuffers: Things to Buy
It always seems like the Holiday sneaks up on us, and we find ourselves short on time as the big day draws closer. If you don't have the time or the energy to make a stocking stuffer, here are my suggestions for stocking stuffers that you can buy.
There are various price points. Hopefully, you'll find something to help you out.
You May Also Like: